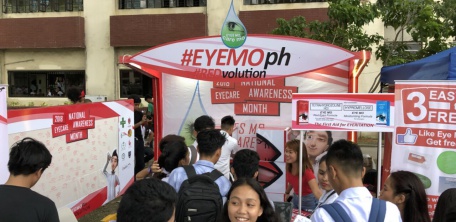 ACTIVITIES
UNIVERSITY OF MAKATI JOINED THE EYE MO REDVOLUTION!

It's a blast! Our first Eyes Mo, Care Mo Campus Tour 2018 at the University of Makati ended in great success! Thanks to the eager students who made the event fun and possible.
Students, especially living in the Metro, pose higher risks of eye damage due to the pollution they encounter in their everyday commute, long hours of computer usage that could make their eyes dry, tired and irritated, not to mention the extensive amount of papers they were required to read.

So we took it upon ourselves here at Eye Mo to inform, educate, and raise eyecare awareness among the students of the University of Makati. This is also in line with the 2018 National Eyecare Awareness Month, where we promote eye care to the masses. This time, we are aiming to raise awareness among the students of different campuses, University of Makati being the first out of seven schools we are going to visit. Aside from the eyecare awareness campaign, the students further enjoyed the event as we brought along five of the coolest artists of today. The students danced, hopped, and rocked to the music of Absolute Play, RJ Agustin, Unit 406, Miro Valera, and Rocksteddy, making the night fun and memorable among the students!

Don't miss out on our next stop! Catch Eyes Mo, Care Mo Campus Tour on the following dates:

*June 27 – Arellano University Jose Abad Campus
*July 5 – Arellano University Main Campus
*July 9 – Central Colleges of the Philippines
*July 11 – Rizal Technological University
*August 2 – University of the East Manila
*August 8 – Lyceum of the Philippines Manila